Automated Concrete Cube Testing System
Jointly developed by Logistics and Supply Chain MultiTech R&D Centre (LSCM) and the Civil Engineering and Development Department (CEDD), the Automated Concrete Cube Testing System is the first of its kind in the world. It can automatically carry out the complete concrete cube testing procedures, including concrete cube curing, weight and dimension measurement, and compression testing. The system comprises an overhead xyz-axis moving stage, robotic arm on rail, laser 3-dimensions measurement device and compression test machine. Equipped with Al technology, the system can also distinguish whether the fracture mode of a concrete cube sample meets the prescribed requirements using computer vision technology. This system has already been put into operation at CEDD's Public Works Regional Laboratory (Sham Shui Kok) on Lantau Island.
This system has won a Bronze Medal in the 48th International Exhibition of Inventions of Geneva.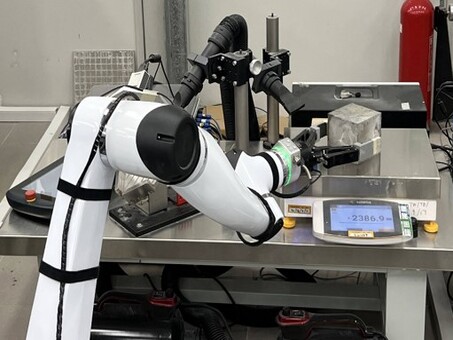 Working Principles of Concrete Cube Testing System
The Concrete Cube Testing System utilises advanced computer vision technology to accurately measure the dimensions of the concrete cubes and carry out compression test. Every individual cube is meticulously scanned, categorised based on its physical properties, and the data is instantaneously recorded in the system. Designed to minimise human error, the system boosts accuracy and precision with the ability to swiftly test a large number of concrete cubes. It optimises time efficiency for testing while ensuring each concrete cube adheres to the required standards.
Benefits of Concrete Cube Testing System
Traditional concrete cube testing methods, which are manually operated, can be labor-intensive and prone to errors, potentially leading to inaccurate results. The automated concrete cube testing system significantly optimises this process, not only does it enhance the efficiency of manufacturing and curing processes, but also significantly improve the accuracy of the test results. This combination effectively reduces operational costs, making the testing process more cost-effective and streamlined.
Contact LSCM
Logistics and Supply Chain MultiTech R&D Centre (LSCM) is Hong Kong's leading centre of technology research and development (R&D) across numerous sectors, both public and private. We are dedicated to fostering the adoption of innovative technology to enhance efficiency in the logistics and supply chain industries. Our aim is to continuously facilitate technology adoption in the industries.
If you have any questions about the Concrete Cube Testing System, our technological innovations, or any other inquiries, please don't hesitate to contact us to learn more.