AIoT Herbal Picking and Delivery System for Traditional Chinese Medicine Hospital
Rooted in a deep and rich history, traditional Chinese medicine offers a unique medical perspective. With the rapid advancement of technology, AI technology and AIoT have been seamlessly integrated with the traditional Chinese medicine dispensing process. This seamless fusion of traditional wisdom and modern technology has led to significant improvements in efficiency and accuracy. Taking reference from the operation of hospitals and adapting it to common Chinese medicine practices, LSCM developed this system with the latest technologies including AI, IoT and robotics. The system applies AI Visual Analytics as a verification machine to visually verify the Chinese medicine items according to the prescription while deploying IoT technology in the traditional "Chinese Medicine Cabinet" for pick-to-light assistance in Chinese medicine dispensing. Further, conveyancing robots are also used to deliver the Chinese medicine to the designated locations in the hospital.
This solution has won a Bronze Medal in the 48th International Exhibition of Inventions of Geneva.
Benefits of Using AIoT-Powered System for Chinese Medicine Dispensing
The AIoT Herbal Picking and Delivery System is a groundbreaking technology in the field of Traditional Chinese Medicine (TCM). This innovative system utilises AI and IoT technology to automate the dispensing process, leading to enhanced productivity and reduced errors. It verifies the accuracy of TCM items against prescriptions, significantly reducing the mistakes often associated with manual dispensing. Its advanced pick-to-light assistance system streamlines the entire dispensing process whilst eliminating needless delays, ensuring patients receive their medications promptly, and facilitating timely treatment. Additionally, with its ability to analyse and process large amounts of data, the machine provides valuable insights into medication administration, maximising the efficiency of Chinese medicine treatment.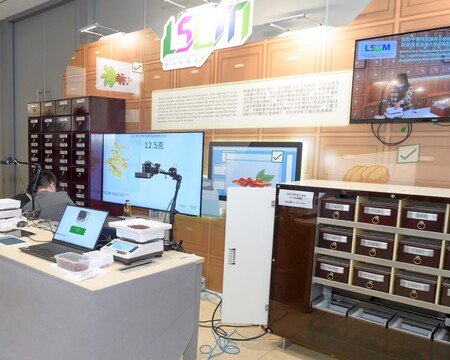 Contact LSCM
Logistics and Supply Chain MultiTech R&D Centre (LSCM) is Hong Kong's leading centre of technology research and development (R&D) across numerous sectors, both public and private. We are dedicated to fostering technological innovation to enhance efficiency in the logistics and supply chain industries. Our aim is to continuously facilitate technology adoption in the industry.
If you have any questions about the AIoT Herbal Picking and Delivery System, our technological innovations, or any other inquiries, please don't hesitate to contact us to learn more.