Location-based Technologies for Real-time Site Safety Management System
In order to minimize the occurrence of construction site accidents, LSCM and the Hong Kong Polytechnic University have developed a "Proactive Construction Management System" (PCMS) to enhance the management and reconnaissance of construction sites for better site safety. In collaboration with the Development Bureau, the project has been tested at various government sites.
PCMS is made up of two main components: Location Based Services (LBS) which consists of wireless location tag readers for recording the location of workers and mobile devices, and Building Information Management (BIM) which monitors the environment around workers. When life-threatening hazard from moving objects is detected, or if any worker enters a dangerous area, the transceiver installed inside the helmet will alert the worker through the system.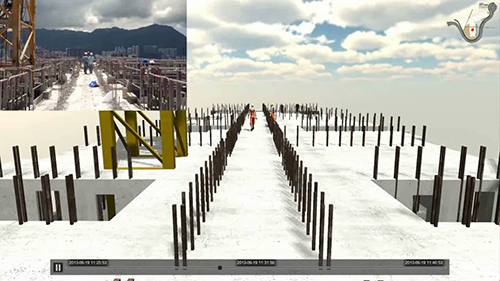 "There are three major causes of death at construction sites. Firstly, workers do not wear safety belts when working at high altitudes. Secondly, they are crushed when they enter dangerous areas. Lastly, they are knocked down by reversing heavy vehicles. Since about 70% of fatal accidents are caused by these reasons, the PCMS system can give immediate warning to workers or drivers of vehicles to save many people's lives."
Mr Charles Wong
The Director (Training and Development)
Construction Industry Council (CIC)

"We have conducted a series of PCMS systems at a slopping site at Ngau Tau Kok. We installed the reader in some relatively dangerous areas, such as the steps of the entrance and the edge of the slopes. The result was satisfactory."
Mr. Liu Ziyang
Geotechnical engineer
Geotechnical Engineering Office
Civil Engineering and Development Department

"The PCMS system provides immediate warning signals to construction workers and site safety supervisors to provide workers with more safety protection."
Mr. Chen jianwei
Geotechnical Engineering Works Inspector
Civil Engineering and Development Department