Video Analytics Technologies and Applications in Hong Kong
Case Study: Baggage Trolley Availability Monitoring and Management at Hong Kong International Airport
This real-time, video-based trolley availability monitoring system has been jointly developed by LSCM and The Chinese University of Hong Kong. It is now fully deployed in the Baggage Reclaim Hall at Hong Kong International Airport. This research project uses artificial intelligence technologies to turn video imagery of baggage trolley pickup points into trolley availability data in real-time. The project also develops a trolley availability monitoring system to disseminate up-to-date trolley availability statuses via a mobile application to frontline staff. The system is to ensure sufficient trolleys are available for passengers to use.
When the number of trolleys in a pickup point drops below a certain level, the system will notify frontline staff via the mobile app. The system reduces the number of staff and the frequency to patrol all the pickup points, distributing over a large floor space. It also helps frontline staff effectively replenish trolleys as required.
The goal of this video analytics application is to improve the quality of worldwide passenger services by ensuring reliable trolley availability. Initially, the computed results from the image analysis technology were not quite perfect - the trolley detection rate was about 87% at the early R&D stage. Through the continuously collected image data, the detection rate was able to be improved to 92% at the end of 2016 after progressively applying corresponding machine learning technique. Since then, the video analytics application has been automatically computing numbers of trolleys over all 18 pickup points in real-time for Hong Kong International Airport's entire Baggage Reclaim Hall.
This trolley availability monitoring system does not require any equipment installation on any baggage trolley. This saves corresponding one-time installation procedure with long-term maintenance management. Via artificial intelligence technology, the system is able to extend its capability to detect other baggage trolleys of different sizes or models. Thus, Hong Kong International Airport has carried out a plan starting in 2018 to gradually extend the video-based trolley availability monitoring system to cover other trolley pickup points in arrival and departure halls.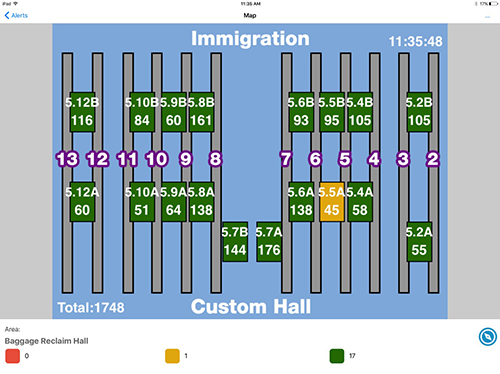 Bird's eye view of real-time trolley availability in Baggage Reclaim Hall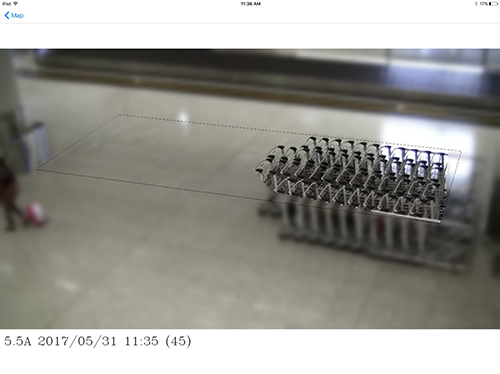 Number of trolleys detected for a specific trolley pickup point at a particular moment