IoT Systems in Hong Kong
Case Study: Cross-Boundary Fast Clearance Security System
Since November 2012, LSCM has assisted Hong Kong Customs with the trial of the "Single E-lock Scheme" with Mainland Customs. We set out to connect Hong Kong Customs' Intermodal Transshipment Facilitation Scheme (ITFS) with the Speedy Customs Clearance (SCC) system used by Mainland Customs. Under this scheme, the processing time for customs clearance of registered trucks at land boundary control points can be reduced by up to two hours.
Until now, the scheme has been extended to 63 clearance points in Guangdong province including Guangzhou Nansha Free Trade Zone, Jiangmen International Electronic Commerce Express Mail Sorting Clearance Centre and Guangzhou Airport. The scheme also goes through 13 clearance points in Hong Kong, including the Hong Kong International Terminals and Kwai Chung Customhouse, and 819 express intermodal transportation routes are offered. Up to May 2019, the scheme has been on trial more than 118,900 times, with over 52 million consignments being handled. Since the official launching of "Single E-Lock Scheme" in late March of 2016 by both Customs authorities, the IoT Cross Boundary Fast-Clearance system developed by LSCM streamlines customs clearance processes. This renders customs clearance between Hong Kong and Guangdong more convenient, efficient and most importantly - secure.
The continuous increase of clearance points under the Scheme in Guangdong Province will further expedite cargo flow between Hong Kong and the Mainland and strengthen Hong Kong's position as an international trading and logistics hub. Different types of enterprises are encouraged to make full use of the Scheme and the expanded clearance point network to capitalise on business opportunities brought about by developments in the Greater Bay Area.
E-Lock Technology for IoT Systems in Hong Kong
LSCM is proud to have facilitated the development of E-Lock technology for the betterment of the IoT system in Hong Kong.
This innovative E-Lock technology is developed to support multiple control processes to ensure secured operation across different customs controls. The use of asymmetric keys ensures the operation security of activation and deactivation of the E-Lock device.
Easy to operate and highly effective, this technology has improved security and efficiency across the sector's operations. The E-Lock has won the silver medal at the 45th Geneva International Exhibition of Inventions held from 29 March to 2 April 2017.
If you have any questions about how LSCM promotes innovation across multiple industries, feel free to contact us.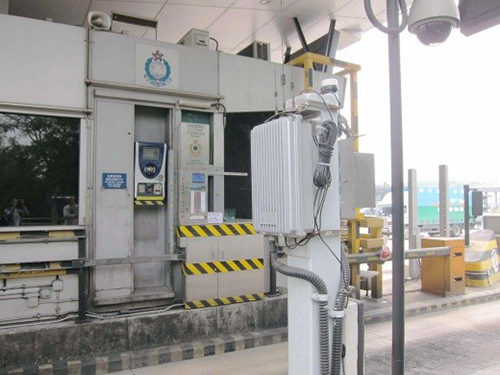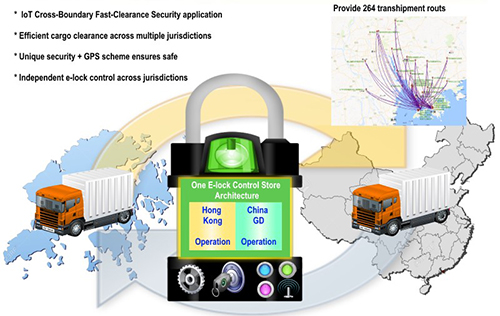 "LSCM helped the development of technology that combines the electronic locks used by Hong Kong and Guangdong into one, allowing Hong Kong Customs to provide seamless customs clearance services to the logistics industry. The electronic lock is operated with two different systems in Hong Kong and Mainland China to ensure the requirements for law enforcement and independence of the two regions are met. Hong Kong Customs would like to thank LSCM for providing technical support and assistance to us to further improve the efficiency of customs clearance."

Mr. Lau Chi Chung, Frank
Senior Inspector (ROCARS Support)
Customs and Excise Department
"With the "single E-lock Scheme", the two electronic locks used in Hong Kong and the Mainland have become one, making transshipment and customs clearance more convenient. In addition, the electronic lock is easy to operate; all information about the status of the lock is communicated to the driver through indication signals on the display panel installed in the driver's cabin."

Mr. Bert Ng
Assistant Manager, Business Development
Hong Kong Air Cargo Industry Services Limited