Home > About LSCM > Profile

The Hong Kong R&D Centre for Logistics and Supply Chain Management Enabling Technologies (LSCM R&D Centre) was founded in 2006 with funding from the Innovation and Technology Fund of the HKSAR Government. Since its inception, the LSCM R&D Centre's mission has been to foster the development of core competencies in logistics and supply chain related technologies and to facilitate the adoption of these technologies by industries in Hong Kong and Mainland China.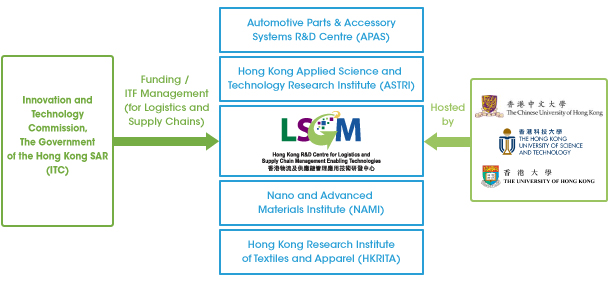 The Centre is hosted by three leading universities in Hong Kong, namely the University of Hong Kong, the Chinese University of Hong Kong, and the Hong Kong University of Science and Technology. The establishment of the Centre marks the realisation of the concerted effort and enthusiasm on the part of the government, industry, academia and research institutes.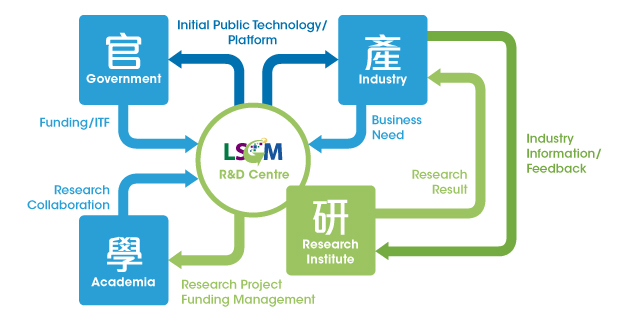 Vision
To be globally-recognised as a leading centre of excellence in logistics and supply chain management research and development
To develop niche technologies that differentiate and achieve excellence
Mission
Conduct R&D activities to develop core technological competencies in the logistics and supply chain industries
Facilitate the adoption of these technologies by industries in Hong Kong / Mainland China in order to enhance competitiveness
Focus on deployment in specific industries and industry segments in Hong Kong in order to make an impact
Service
The Centre has been commissioned to be a one-stop resource for applied research, technology transfer and commercialisation, by undertaking the following roles and functions:
Conduct industry-oriented researches
Provide consulting and market intelligence services
Provide a platform for business matching and technology transfer
Facilitate intellectual property commercialisation
What Difference Does LSCM Make?
To the industry:
LSCM's technology development is focused on niche applications but target to serve a broad spectrum of users
To the academia:
LSCM aims at closer cooperation to conduct market-driven researches based on each university/research institute's expertise and technological strengths
To the public sector:
LSCM targets to provide a Public Technology Platform to forge technology advancement in different areas
Profit Tax Savings
On 1 August 2016 LSCM was approved as an approved research institute under section 16B(4)(a)
of the Inland Revenue Ordinance
Any payments made to LSCM for research and development related to payer's trade, profession or business or to the class of trade, profession or business to which that trade, profession or business belongs can be deducted in ascertaining the assessable profits of the payer under certain specified condition by virtue of section 16B