Population ageing has become a global issue and Hong Kong is also facing the same challenge.  Hospitals, elderly care centres and caregivers are in need of technology to cope with the wandering problem of the patients with dementia.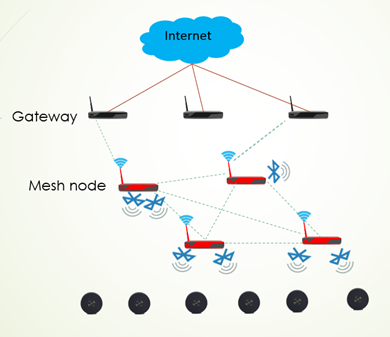 LSCM collaborated with The Hong Kong University of Science and Technology to deploy the SmartAP for locating patients and asset tracking in Tseung Kwan O Hospital. Wireless mesh network is used to extend the sensor connectivity in the hospital. SmartAP helps to locate, track and geo-fence the patients with dementia, as well as locate the medical assets which are shared and often randomly placed in the premises. It can also track the bed vacancy in the ward. SmartAP IoT sensors are installed in major areas such as lift lobbies, exits, and entrances in the hospital. These sensors are connected to the network, using mesh technology at the blind spots. The patients with dementia only need to wear an RF (BLE) tag, which can be tracked by the surrounding SmartAP IoT devices. With the SmartAP technology and RF tags, patients' location inside the hospital can be easily found. Alarm will be triggered to alert the doctors, nurses and security guards if the patients with dementia wander away.
The technology can be deployed in similar premises such as elderly centres to enhance the effectiveness and efficiency of the services and alleviate the workload of the caregivers.