The recent fifth wave of the COVID-19 outbreak has had a severe impact on people's daily lives and the business environment in Hong Kong. The HKSAR Government has therefore adjusted a number of epidemic control measures to cope with the urgent need for testing, isolation, and quarantine while curbing the spread of the diseases in the city using "Vaccine Pass". With the expertise and experience in the research and development of technology, LSCM has continued to provide technology support for the evolving measures of the Government's anti-pandemic work.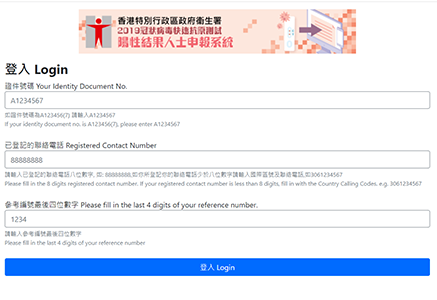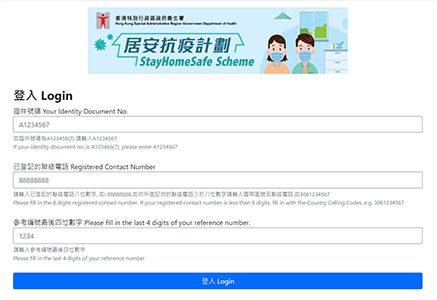 LSCM utilises IoT, status monitoring and notification, track-and-trace, and data analytics technologies to support the development of the "Isolation and Quarantine Order (IOQO) Issuance System", "StayHomeSafe e-Support (SHS e-Support) System", and "Isolation Care Monitoring System (ICMS)". The IOQO Issuance System provides the documents of Isolation Order and Quarantine Order to the infected persons and their household contacts respectively, after the infected persons have reported their Rapid Antigen Test (RAT) positive results via the "Declaration System for Individuals Tested Positive for COVID-19 Using Rapid Antigen Test" under the Centre for Health Protection (CHP). Prior to issuing the documents, the IOQO Issuance System verifies the person's identity and validates his/her isolation or quarantine period before automatically generating the corresponding order for downloading.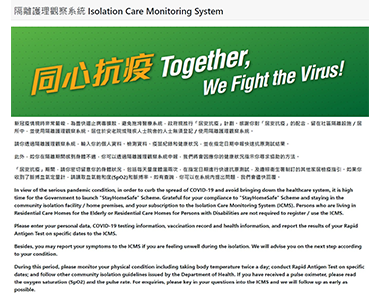 In order to provide support services to all the infected persons in isolation facilities and at home, the "Isolation Care Monitoring System (ICMS)" facilitates them to submit their daily health statuses via the system for the healthcare professionals at Hospital Authority to follow up if the infected persons are feeling unwell. In addition, the "StayHomeSafe e-Support (SHS e-Support) System" facilitates all the quarantined persons to submit their daily health statuses and any RAT positive results for CHP to follow up. Collectively, the collected data and subsequent data analysis in the various systems enable the corresponding departments to closely monitor the COVID-19 situation in Hong Kong and provide timely support to the public.
Besides, to facilitate the Government to implement the "Vaccine Pass" arrangement which aims to encourage more people to get vaccinated, LSCM has provided technology support to the Office of the Government Chief Information Officer (OGCIO) in the development of the "QR Code Verification Scanner" for the specified premises to verify the vaccination records of the public. The "QR Code Verification Scanner" provides more convenience to the operators and staff of the relevant premises, such as restaurants, shopping malls and elderly homes, etc.
Prior to the recent development of the above technologies and systems, LSCM has been playing a major role in Hong Kong's combat against COVID-19 since 2020. The Centre developed the "StayHomeSafe System" to support the Government's home quarantine arrangement, as well as various technologies and systems to support the "Universal Community Testing Programme (UCTP)" and the "COVID-19 Vaccination Programme". The LSCM teams will continue to support the Hong Kong Community amid and after the COVID-19 pandemic with technology.